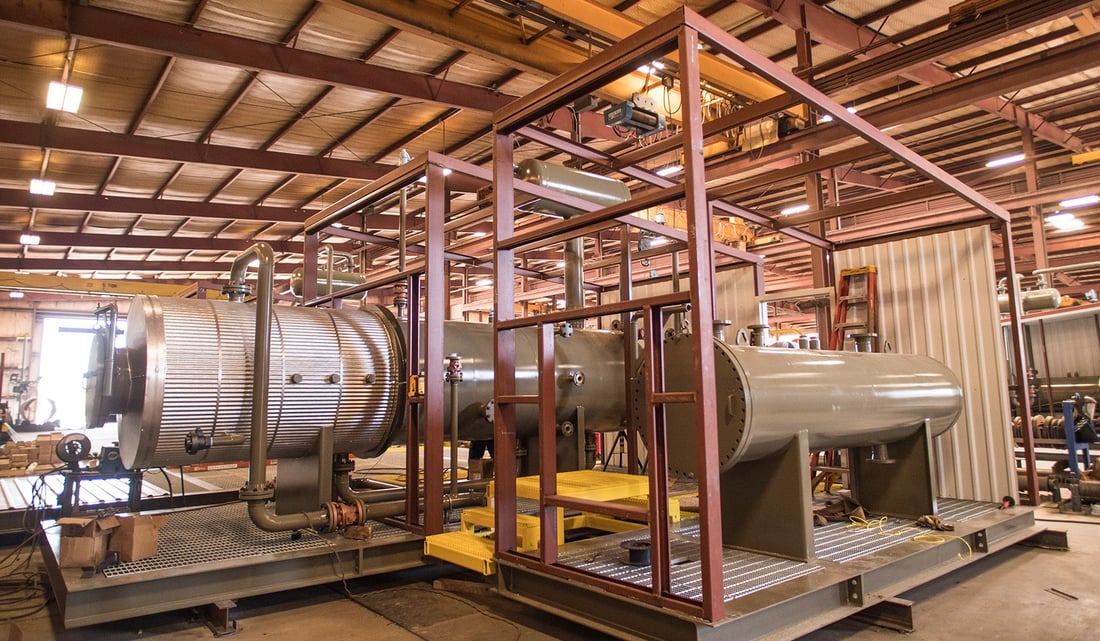 From the field to the forefront of innovation: 12:eleven's designs are engineered and fabricated using a lean manufacturing and continuous improvement philosophy in order to exceed customer expectations and meet all regulatory requirements.
Learn more about our fabrication offerings and what separates the 12:eleven fabrication team from that of any other in the field.

Fabrication Focused on Details
Our diversified fabrication capabilities allow us to ensure that our equipment meets the highest quality standards before it hits the field so you know it will perform as promised.
Our diversified manufacturing capabilities located near major arteries allow us to deliver a broad range of surface production equipment in a timely manner to all active oil and gas producing basins. With more than 300,000 sq. ft. of manufacturing space in multiple locations backed by the strengths of our industry professionals, we assure consistent, quality results.
Heavy Fabrication
Mechanical and Hydraulic Assembly
Precision CNC Machining
Surface Prep, Phosphatizing, Blasting and Wet Paint
Piping, Skids and Assembly Fabrication
Stainless Steel and other Non-ferrous Metals
ASME Code and Non-Code Vessels
Complex Fabrication Assemblies
Quality Control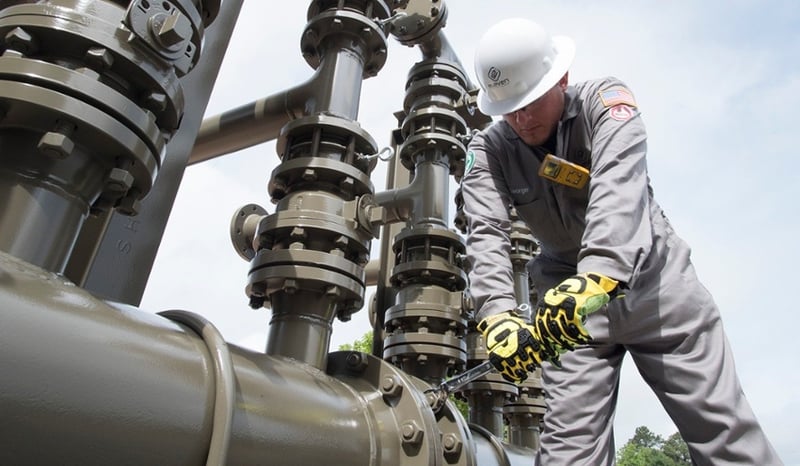 Quality Certifications
12:eleven's designs are engineered and fabricated using a system-wide quality standard and methodology in order to exceed all regulatory requirements.
7SWE (Construction)
DSQR (Aerospace)
ISO 9001:2015
AS 9100 Rev D
ASME Section VIII, Div 1
U & R stamps
ANSI 331.3
AWS D1.1
More than offering production and process equipment of the highest quality, we provide customer-focused solutions that meet a complete range of needs, including Commissioning, Troubleshooting, Logistics coordination and Oil & Gas production expertise.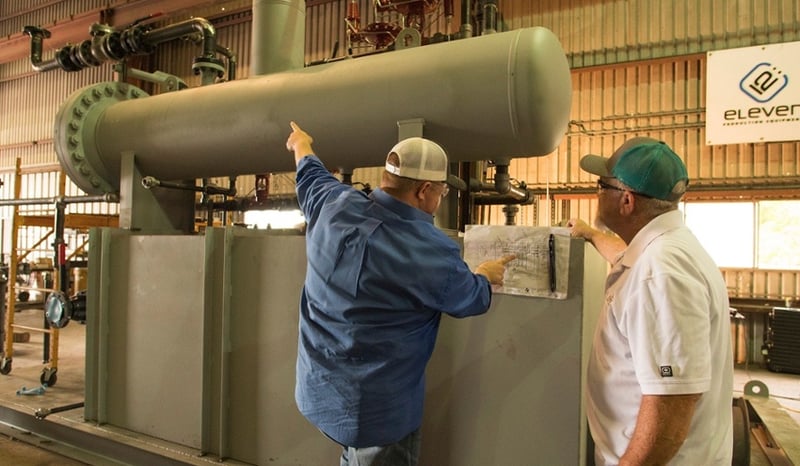 12:eleven's Fabrication Shops
12:eleven's fabrication shops deliver heavy fabrication and assembly as well as precision machining and sheet metal fabrication
Industries We Serve
Our primary industries served are:
Mining
Water & Wastewater
Aerospace
Medical
Electrical
General industrial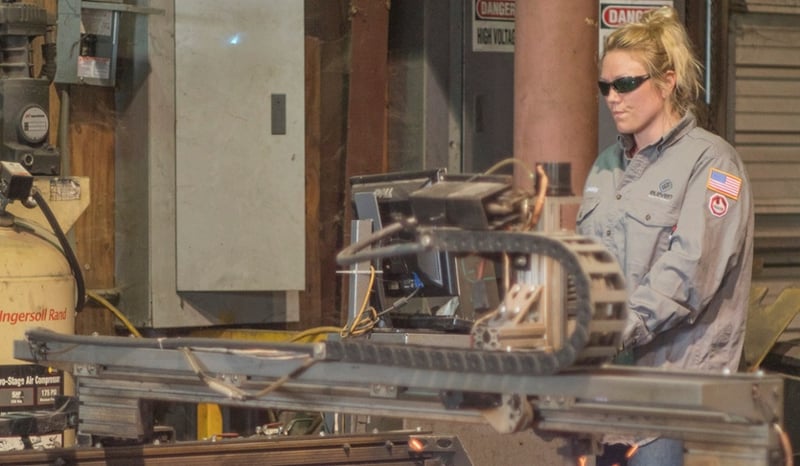 Offering Diversity and Singular Focus
With multiple fabrication locations, our customers receive:
The diversity and risk mitigation (especially from natural disasters and pandemics) that only multiple sites can provide.

They will also continue to receive the customer focus that only a single source provider can offer.
Equipment and Production Operations Experts
Our core team's decades of experience, whose history began in the field, understand equipment and production operations.
We bring experience and innovation that deliver a host of benefits, including:
Optimal Equipment Design and Facility Layout
Reduced pad size and equipment footprint
Lower chemical and installation costs
Reduced maintenance costs
Lower overall energy consumption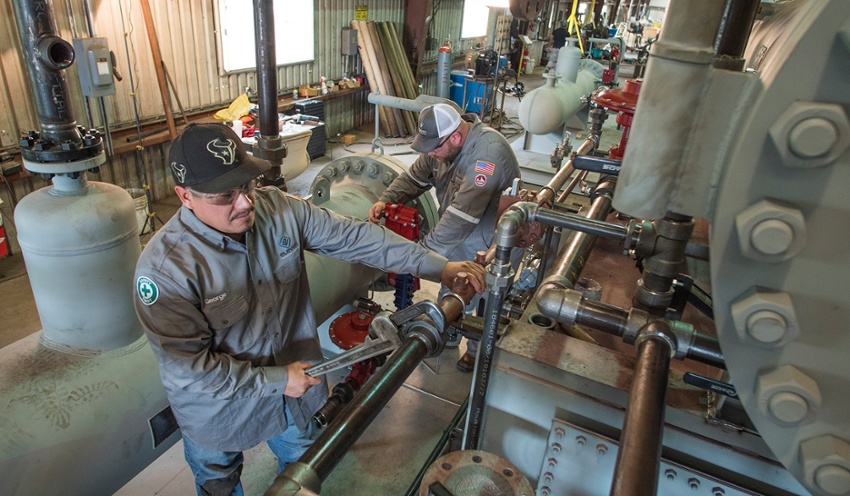 When our customers partner with 12:eleven, they acquire the full depth of knowledge and experience in every aspect of design, engineering and fabrication of the highest quality production equipment. The 12:eleven experience provides a significant pricing advantage for customers seeking custom equipment and best-in-class solutions:
Contact Us
Discover the strengths that the specialists in innovation and customization bring to production and process equipment. Contact 12:eleven and experience quality that is reliable, efficiency that is proven and service that is unsurpassed.
We invite you to request a quote for our products or services
---

As a specialty company providing custom design, engineering and fabrication of production and process equipment, we are dedicated to doing what's right for our customers and passionate about creating value on every project.
We leverage the field expertise of our design and engineering group together with our diversified manufacturing capabilities to deliver a broad range of innovative surface production equipment - including Separators, Treaters, Free Water Knock Outs, Bulk and Test Packages, Indirect Line Heaters, Gas Production Units, Gas Dehydration Units, Glycol Contact Towers, Vapor Recovery Towers, Oil Stabilizing Towers.