Indirect Line Heaters
(Indirect Heaters, Coiled Heaters)
A Line Heater is equipment comprised of a high-pressure coil which is suspended inside a liquid media bath over a heat source that warms the process stream, typically during a pressure drop. Line heaters pre-warm the incoming process stream before the pressure drop and warm the process stream after the pressure drop, thereby preventing the formation of ice. Normally placed after the Sand separator, or in the absence of a sand separator, it is the first vessel after the wellhead and is typically rated higher than the wellhead shut-down pressure.
We also offer a line heater design with a low-pressure coil for heating oil up to a specific temperature to reduce the amount of flash gas still contained in the oil prior to going to tanks. These were adopted to meet the temperature requirements regulated by the state of North Dakota to reduce emissions and make the oil safer for transport.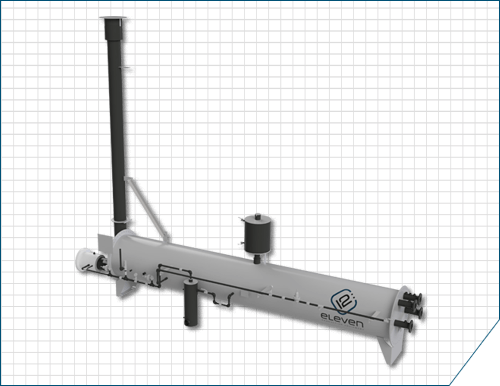 Specifications
Non-code Atmospheric bath with coil options of: Non-Code, API-12K, or ASME Code
High and Low Pressure Coils – Designed with and without a pressure reducing choke
Firetube and coil designed for various applications and are removable
Coil pressure rating from 50 PSI – 5,000 PSI
Round and square designs for different applications
Bare heaters to Turn Key Package Solutions
Additional Benefits of Our Design:
Safety – When used in an oil heating scenario, it greatly reduces the risk of fire due to firetube failure. This comes from having the hydrocarbons contained inside a coil and utilizing indirect heat transfer to increase the temperature of the oil. There is no direct contact with the oil and the firetube in this design.
Cold Weather Design – By utilizing a square bath GPU style line heater, we eliminate the need for insulated cabinets and insulation of piping by installing the piping above the heated bath in a GPU style enclosure.
Maintenance – Maintenance is a huge factor when looking to designing any piece of equipment. When looking to heat oil, a line heater with a low-pressure coil is the safest and most practical option, and greatly reduces crew maintenance activity. With this type of treater, maintenance costs is also reduced by requiring fewer replacement accessories and eleminating the necessity of maintenance crews frequently working inside of the treaters.