Bulk and Test Packages
Bulk and Test packages are becoming common items in the field and we took them a step further when creating our design. We focused on designing a foundation or skeleton if you will of a unit that can be easily customized to meet specific customer wants and needs. As part of our Total Well Pad Solution, there are many things that come standard on these units that normally do not. From economical options to full custom automation, our unit will meet and exceed your expectations.
With an interconnecting design with multiple skids, we can create a building that is sixty-foot long, ship it down the road, and assemble it on location to look like one building. With attention to detail on mapping the various components that are disassembled for transportation, we can re-assemble the unit in less than 2 hours after receiving it.
Adaptable to many different applications, we have incorporated many process efficiencies into the package such as special inlet devices and gas domes for situations with higher amounts of gas. From field to fabrication, many have collaborated on this design and provided input to making it a top choice for producers. Let us show you the many added benefits to our design and provide you with a custom solution for your specific applications.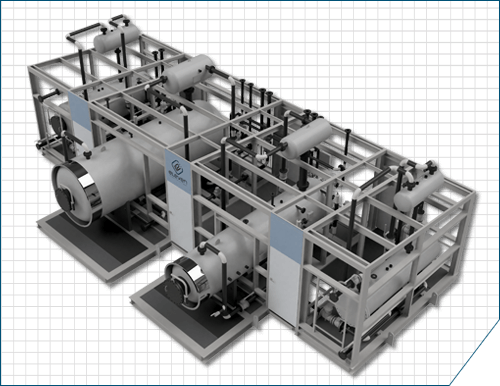 Specifications
Foundation design with many interchangeable components for various applications
ASME Code and Non-Code built to code vessels; variable pressure rating of vessels
Can be used on single well applications (Test side), Multi-well applications (Bulk Side); and multi-well applications with need for testing (Bulk and Test Unit together)
Cold and warm weather designs
Bare vessels skid mounted to full turn key package solutions
Basic to extensive accessory items for mechanical, pneumatic, or electric applications