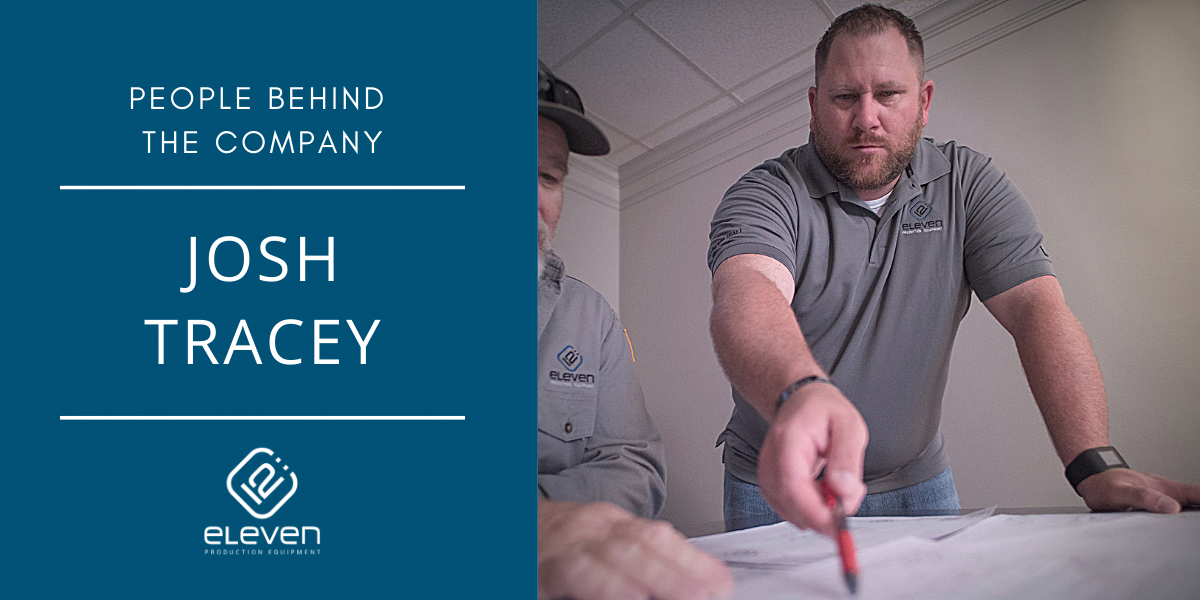 Behind every great company is a great team of people!
Keep reading to learn more about one of our valued team members, Vice President of Operations & Sales, Josh Tracey.
Meet Josh Tracey
Shane Hinds, our President and CEO, shares some of his thoughts about Josh:
I have invested in several companies over the past 30 years, and I have discovered that most of the winners were the ones where I invested in people rather than a business. Josh Tracey, our leader at 12:eleven Production Equipment, is one of those people.

A common theme among this special group of individuals has been their authentic character. Throughout Josh's 20+ year oilfield career, 10+ years in military service, and time at 12:eleven, his integrity, humility, selflessness and strong work ethic has been on display as a leader and peer.
Josh's Background
Josh comes to 12:eleven with over twenty years of experience designing, engineering and fabricating oilfield production equipment.
While Josh holds a BS in Mechanical Engineering, a BS in Business, and a Master of Business Administration, he attributes his acquisition of knowledge and skills to rolling up his sleeves and getting dirt under his fingernails on the job.
During his oilfield career, Josh has touched most every aspect of oilfield production equipment in some capacity – from the field, to the shop, to the front office.
Prior to and while employed in the oilfield, Josh proudly served in the U.S. Army and Army Reserves for 12 years.
Production Equipment Skills and Experience
Josh brings a wide range of skills and experience to the 12:eleven operation, gathered from the oilfield production equipment career path highlighted below:
Welding and Assembling Skills
Commenced his production equipment career working in the fab shop welding and assembling high spec equipment in accordance to engineered blueprints, operating various fabrication tools.
Pressure Vessel and Management Skills
Interpreted and constructed pressure vessels per code according to engineered blueprints while maintaining a 98% first pass rating in high quantity x-ray welds.
Performed multiple fabrication duties operating most all manufacturing tools and equipment. Served as glycol tower and large vessel lead.
Fitted pressure vessels, welded pipe and nozzles to tolerances less than 1/8 of an inch. Conducted low pressure tests on vessels before hydro testing.
Managed a team of welders.
Trained new hire employees to rigorous quality standards.
Extensively reviewed customer's specs and developed a scope of work for the new projects.
Design Skills
Introduced innovative ways of designing products that were more user friendly and efficient.
Developed and reviewed drawings to provide drafting for fabrication drawing layout.
Performed necessary ASME code calculations for vessels.
Researched and spec'd out accessories and instrumentation required to meet scope of work.
Prepared estimates and change orders to meet or exceed customer expectations.
Worked with R&D to develop and design new technologies.
Participated in patent development for separation and dehydration equipment parts.
Engineered and designed new products for various areas to stay on the leading edge of production equipment technologies.
Provided equipment sizing and design utilizing multiple software applications: Compress for vessel calculations, Excel, Citrix, Hysys, ProMax, ACAD, and various proprietary design systems.
Created multiple equipment designs and packages that created significant value to customers operations – saving millions of combined dollars.
Project Management Skills
Generated customer technical proposals for standard and custom production equipment.
Liaison for the sales team and customers facilitating answers to engineering and technical questions – troubleshooting solutions.
Formulated a quote library for all our standard equipment and custom packages.
Developed training classes and modules for oilfield production equipment.
Generated exponential sales growth and maintained existing customers. Worked with multiple subcontractors and manufacturing shops to meet timely deliveries.
Configured work plans and procedures to reduce waste and improve efficiencies. Produced and maintained fabrication schedules to meet customers and internal on-time deliveries.
Organized detailed fabrication meetings to discuss projects and share information between functional groups. Developed and formulated plans to increase manufacturing efficiency.
Managed small and large sales and operations teams.
Military Service
We are proud of Josh's military background and thankful for his service.
RANGER INFANTRYMAN / STAFF SGT
Completed a variety of military duties:

Diesel Mechanic / Construction Equipment Technician

Assigned to leadership positions throughout military career and promoted due to high level performance. Completed multiple advanced specialized courses. Boot camp honor graduate.
Successfully led several combat missions in high risk / targeted areas.
Inducted into several prestigious Army organizations - Army Corps of Engineers.
Received several recommendations, promotions, and awards for merit.
Led and trained upwards of 250+ soldiers at multiple boot camp cycles.
Granted a secret security clearance by the Department of Defense.
Contact Us
Discover the strengths that the 12:eleven specialists in innovation and customization bring to production and process equipment. Contact 12:eleven and experience quality that is reliable, efficiency that is proven and service that is unsurpassed.
Recognized nationwide for quality and performance, our separators help improve and accelerate production with more efficiency than ever.
We invite you to request a quote for our products or services.
---

As a specialty company providing custom design, engineering and fabrication of production and process equipment, we are dedicated to doing what's right for our customers and passionate about creating value on every project.
We leverage the field expertise of our design and engineering group together with our diversified manufacturing capabilities to deliver a broad range of innovative surface production equipment - including Separators, Treaters, Free Water Knock Outs, Bulk and Test Packages, Indirect Line Heaters, Gas Production Units, Gas Dehydration Units, Glycol Contact Towers, Vapor Recovery Towers, Oil Stabilizing Towers.