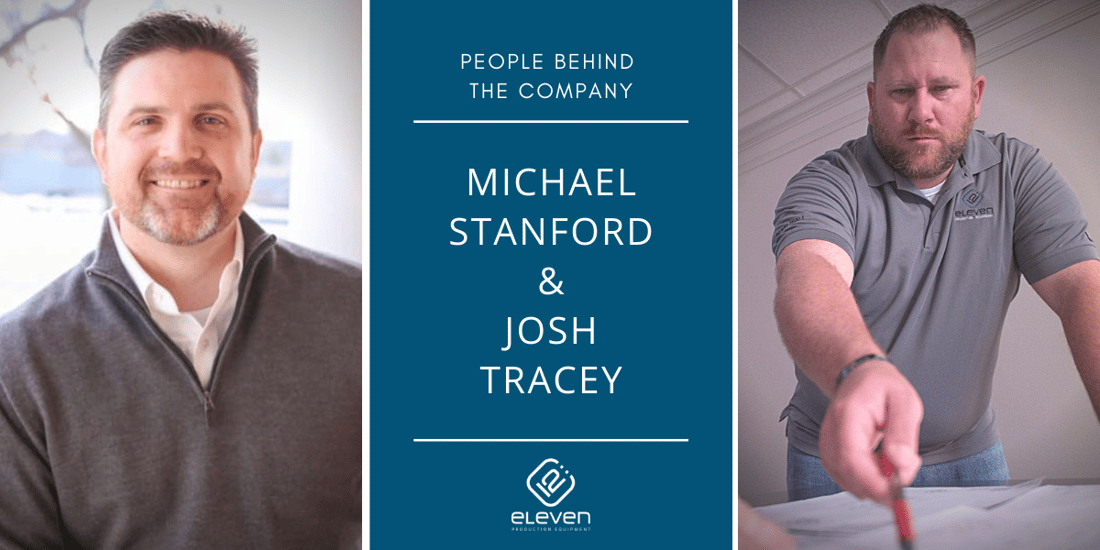 Behind every great company is a great team of people! When enhancing our team, we seek out experienced leaders who share our core values. We are super excited to have the experience and leadership of our newest team members Michael Stanford and Josh Tracey.
Meet Michael Stanford
Michael Stanford joins our team to operate as the 12:eleven's CEO.
Michael is a 20-year veteran of manufacturing quality, operations, and management. Before joining the Sharp Iron Group as President and partner in 2014, he was a senior manager for fortune-50 aerospace company, Pratt & Whitney, for over 15 years. In that time, Michael led successful initiatives in virtually every facet of the turbine engine supply chain, from repair and overhaul of business aviation components, to major overhaul of commercial jetliner engines.
While at Sharp Iron Group, Michael has navigated the company through several major growth initiatives including ASME code certification as well as several plant expansions and company acquisitions.

When not at work, Michael stays busy as Chairman of United Regional Health Care System's Board of Trustees, as well as serving on several other non-profit boards and advisory committees. He is also heavily involved with his church and, of course, his family, including wife, Francie, daughter, Madeline, and son, Riley. Michael holds a BBA degree in Business Administration from Midwestern State University.
Meet Josh Tracey
Formerly Vice President of Operations and Sales, Josh will continue to excel as a President for 12:eleven. In his new role as President, and with over 20 years of experience, Josh will continue to lead the 12:eleven team in pursuit of unmatched quality, performance, and value for our customers.
Over twenty (20+) years of experience designing, engineering and fabricating oilfield production equipment. A history of managing both small and large teams and up to nine-figure revenue streams.
His experience and history also included, leading the start-up of business units and divisions in multiple geographic locations throughout North America. Josh's depth of field experience and formal education combined with his history in engineering and design roles have developed into a unique capability and rounded knowledge for creating innovative solutions for customers.
Expanding the 12:eleven Experience
Over the past 3 years,12:eleven has established itself as a premier specialist in designing, engineering and fabricating oilfield production and gas processing equipment with a focus on creating value for our customers through customer-focused solutions, modularization, rigorous quality control, and operational excellence.
12:eleven is grateful to be able to have the continued opportunities to aid our customers in a successful 12:eleven experience.
Contact Us
Discover the strengths that the 12:eleven specialists in innovation and customization bring to production and process equipment. Contact 12:eleven and experience quality that is reliable, efficiency that is proven and service that is unsurpassed.
We invite you to request a quote for our products or services.
---

As a specialty company providing custom design, engineering and fabrication of production and process equipment, we are dedicated to doing what's right for our customers and passionate about creating value on every project.
We leverage the field expertise of our design and engineering group together with our diversified manufacturing capabilities to deliver a broad range of innovative surface production equipment - including Separators, Treaters, Free Water Knock Outs, Bulk and Test Packages, Indirect Line Heaters, Gas Production Units, Gas Dehydration Units, Glycol Contact Towers, Vapor Recovery Towers, Oil Stabilizing Towers.