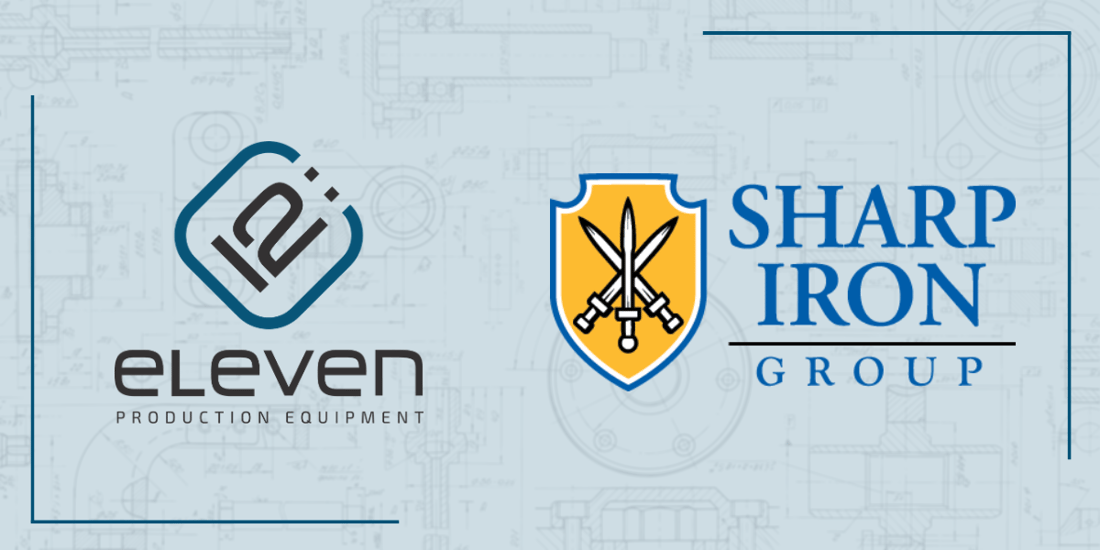 12:eleven Production Equipment is pleased to announce its acquisition by the Sharp Iron Group, based in Wichita Falls, Texas.
Keep reading to learn more about Sharp Iron Group and what we will have to offer our customers!
Who is Sharp Iron Group?
Sharp Iron Group is an ISO-certified contract manufacturer, offering turnkey manufacturing solutions to our customers, enabling them to focus on their core business. Sheet metal fabrication, precision machining, complex machined weldments, heavy fabrication projects, assembly and project management make up our core operational competencies.
Sharp Iron Group operates under an ISO 9001 and AS9100 certified Quality Management System. We also maintain ASME pressure vessel certification (Section VIII, Div 1), on-site CWI (Certified Welding Inspector), on-site NACE II Inspector (coatings) and several other customer-specific certifications.
The bedrock of their operation is found in Proverbs 27:17, "As iron sharpens iron, so one person sharpens another." They firmly believe that people and organizations thrive when they encourage and challenge one another as they strive toward continual improvement.
The 12:eleven Journey
Over the past 3 years, 12:eleven has established itself as a premier specialists in designing, engineering and fabricating oilfield production and gas processing equipment with a focus on creating value for our customers through customer-focused solutions, rigorous quality control, and operational excellence.

In a few short years, and under the leadership of Josh Tracey, 12:eleven has forged loyal relationships with key customers looking for creative solutions and superior service.

In his new role as President, and with over 20 years of experience, Josh will continue to lead the 12:eleven team in pursuit of unmatched quality, performance, and value for our customers.
The Synergy Between 12:eleven and Sharp Iron Group
We are thankful and supportive of our loyal integration with Sharp Iron Group.
Creating Diversified Platforms
The joining of forces of Sharp Iron Group and 12:eleven is a critical step in executing our vision to create a diversified platform of design, engineering and fabrication services and capabilities to support the oilfield, pipeline and gas processing markets.
Sharing Values and Principles
Our goal to provide our customers with a value-added, innovative, and turn-key solution is closer to being achieved with this acquisition.
Most importantly, both companies share the same values and principles that guide our respective businesses – a culture of integrity, humility, and respect, with a hyper focus on our customers and safety. These commonalities will produce a seamless integration of our companies' philosophies, services, and teams.
New Group, Same Service and Experience
Be assured that all of our stakeholders will continue to receive the same level of service that they have experienced throughout their relationship with 12:evelen and Sharp Iron Group – with some added and enhanced capabilities from our combined resources.
Want to Learn More?
If you have any questions about this exciting news and what it will mean for you, please contact us at any time to learn more.

In the meantime, please refer to our websites for information about our products, services, and capabilities.
---

As a specialty company providing custom design, engineering and fabrication of production and process equipment, we are dedicated to doing what's right for our customers and passionate about creating value on every project.
We leverage the field expertise of our design and engineering group together with our diversified manufacturing capabilities to deliver a broad range of innovative surface production equipment - including Separators, Treaters, Free Water Knock Outs, Bulk and Test Packages, Indirect Line Heaters, Gas Production Units, Gas Dehydration Units, Glycol Contact Towers, Vapor Recovery Towers, Oil Stabilizing Towers.