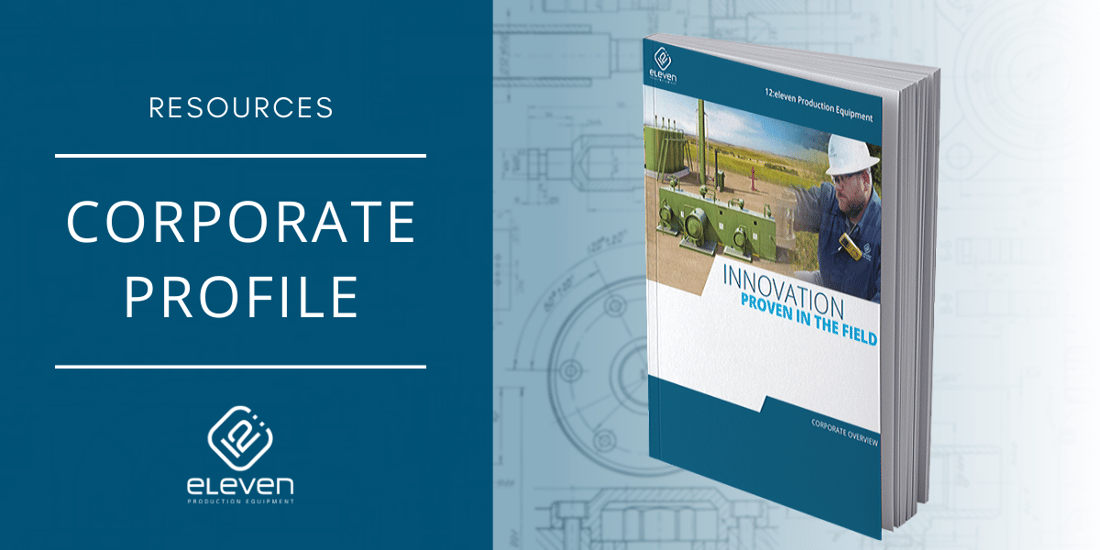 At 12:eleven, designing, engineering, and building a broad range of production equipment is what we do best.
In order to better inform our future customers about our scope of work, including the exact range of products, services and projects that we offer, we have developed a Corporate Profile to further highlight everything that we provide and do to create value for our customers.
Download Our Corporate Profile
In this download, we explain in depth how 12:eleven creates value for our customers – the what, where and how of 12:eleven.

Your Single Source Provider
At 12:eleven, we are a single source for design, engineering and fabrication of multiple production and process equipment categories.
Tested and proven, our production and process equipment solutions bring innovations to the field that pay off in greater efficiencies, reduced costs and operational excellence.
From basic AMSE code pressure vessels to fully customized skid-mounted turnkey well pad solutions, we are here to help solve and support all your production and process equipment needs.
Principles We Live and Work By
Our management team works diligently to innovate, engineer and build the best equipment solutions in the market, leveraging more than three decades of experience in the "field" and the shop.
Building value for our customers is our objective
Providing the best in customer service is how we achieve our goals. Critical to that process is our continuous focus on creating economic value for 12:eleven customers at every step.
Guiding Principles
Everything that we do is filtered through a set of formal Guiding Principles, which guide our actions and norms of behavior. We understand that the ultimate success of our efforts will be measured by the consistent quality of our products and services over the long-term.
That's why every 12:eleven project is filtered through an exhaustive evaluation and analysis to create the optimal solution for each customer's specific need and challenge.
Contact Us
Discover the strengths that the specialists in innovation and customization bring to production and process equipment. Contact 12:eleven and experience quality that is reliable, efficiency that is proven and service that is unsurpassed.
We invite you to request a quote for our products or services
---

As a specialty company providing custom design, engineering and fabrication of production and process equipment, we are dedicated to doing what's right for our customers and passionate about creating value on every project.
We leverage the field expertise of our design and engineering group together with our diversified manufacturing capabilities to deliver a broad range of innovative surface production equipment - including Separators, Treaters, Free Water Knock Outs, Bulk and Test Packages, Indirect Line Heaters, Gas Production Units, Gas Dehydration Units, Glycol Contact Towers, Vapor Recovery Towers, Oil Stabilizing Towers.