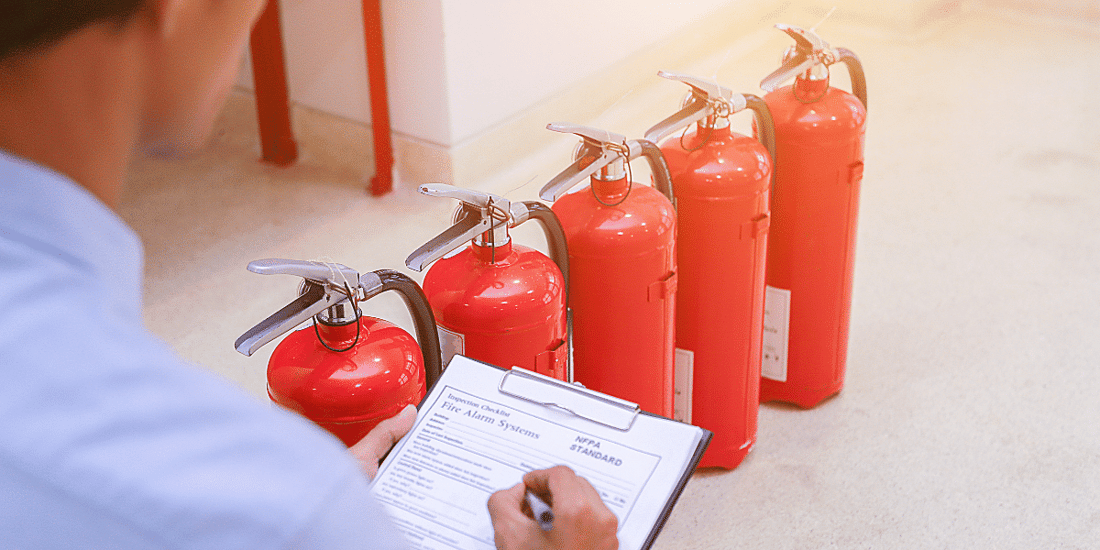 Fire takes lives and destroys businesses, so we all know how devastating it can be. A fire at your place of business is a double whammy. Take steps to prevent fires.
Let's dive into our moment in safety on tips for fire safety in the workplace.
Tips for Fire Safety and Prevention in the Workplace
Workplace fire safety involves a series of practices that reduce a business's risk of fire, especially when involving activities like gas or lasers (even offshore), while also keeping employees safer. Workplace fires often result in costly repairs and losses that combine to create terrible setbacks for businesses and landlords. In fact, fire is reported as one of the most common and costly business insurance claims.
Here are some easy ways to reduce your business's risk of fire.
2. Keep fire safety equipment in house
3- Train and educate your staff
5- Rebound with proper fire safety practices
6- Implement a comprehensive fire safety plan
1. Create an evacuation plan
Every business should have an evacuation plan to make it safer and efficient for employees to leave the building during a fire. In fact, OSHA guidelines state that a business must have an emergency evacuation plan (EAP) if they anticipate anyone evacuating their workplace premises during a fire.
Post a fire evacuation plan in several locations around the workplace.


Never include elevators in an evacuation plan; always use the stairs.


Develop a detailed evacuation for those employees needing additional assistance in an emergency while considering employees with any disabilities.


Make sure your EAP complies with OSHA requirements and industry best practices.
2. Keep fire safety equipment in house
Keeping all fire safety equipment in house, while following routine inspections is crucial to prepare for a fire in case of an accident.
Keep up with routine maintenance by setting a calendar reminder or designate a time of year to schedule both formal inspections and independent upkeep.


Inspect fire safety equipment regularly, this includes smoke alarms, fire extinguishers and sprinklers. Faulty equipment should be replaced right away.


Store equipment in an easily accessible area that's free from clutter.


Standard fire safety practices call for smoke detectors and fire extinguishers on every floor. Employees should be aware of the location of fire extinguishers on each floor.


Equip your employees with an

emergency kit

stocked with items like bottled water, a flashlight, and an escape mask to fight against smoke inhalation.
3- Train and educate your staff
Human error is a common cause of fire in the workplace. Mishandling chemicals, improperly storing combustible materials and kitchen mishaps are just a few of the many situations that could spark a fire.
Employees should receive fire safety training to learn how to minimize the risk of a fire.


Teach your employees the importance of following safety procedures and keep them engaged.


Make sure your employees know what to do if there's a fire, including calling 911 immediately.



Conduct a fire drill at least once a year to keep employees aware of your workplace fire safety protocol.
4- Clean up your act
Business fires can result from a number of things, including the accumulation of combustible clutter and hazardous chemicals like oil and paint thinner. Keep combustibles and hazardous materials out of your business by doing regular cleanups before accidents happen.
Keep an eye on areas that could produce a fire hazard, such as storing flammable chemicals in hot areas like the kitchen or near other flammable objects, like paper towels.
Keep combustible materials at least 18 inches away from heat sources like stoves.
When using harmful chemicals, be sure to wear gloves and a lab coat that is free of holes or tears.
5- Rebound with proper fire safety practices
After refurbishing, go over the following fire safety tips to ensure continued protection for your employees and building:
Keep your eyes peeled for faulty electrical wiring, which is a common cause of office fires.
Install fire sprinkler systems to cover entire floors in case of fires.
Make sure your employees know where the exit routes are and have regular fire drills for employees to practice evacuating.
6- Implement a comprehensive fire safety plan
A comprehensive fire safety plan is the best way to keep your employees safe in case of a fire. Your business should have a written emergency action plan that includes evacuation routes and procedures for alerts and alarms.
The plan should be reviewed and updated regularly, at least annually. Make sure all employees are familiar with the emergency action plan and know what to do in case of a fire.
Contact Us
Discover the strengths that the specialists in innovation and customization bring to production and process equipment. Contact 12:eleven and experience quality that is reliable, efficiency that is proven and service that is unsurpassed.
We invite you to request a quote for our products or services
---

As a specialty company providing custom design, engineering and fabrication of production and process equipment, we are dedicated to doing what's right for our customers and passionate about creating value on every project.
We leverage the field expertise of our design and engineering group together with our diversified manufacturing capabilities to deliver a broad range of innovative surface production equipment - including Separators, Treaters, Free Water Knock Outs, Bulk and Test Packages, Indirect Line Heaters, Gas Production Units, Gas Dehydration Units, Glycol Contact Towers, Vapor Recovery Towers, Oil Stabilizing Towers.